Former Democratic Presidential Candidate Andrew Yang is a big supporter of California Proposition 24, and he has recently been talking to the media about why he is so passionate about Prop 24 turning into law.
One key reason is that he believes that if Californians can enjoy the same broad privacy rights that Europeans have with the GDPR, then there will be pressure for the rest of the United States to enjoy the same comprehensive privacy rights that Californians have.
In his interview with Garrett Haake of MSNBC for the Texas Tribune Festival, Andrew said if California passes Prop. 24 (aka the California Privacy Rights Act or CPRA) then other states will follow: "You would end up with this set of data and privacy rights hopefully sweeping the country."
.@AndrewYang says if California passes Prop. 24 — a data privacy proposition, then other states will follow.

"You would end up with this set of data and privacy rights hopefully sweeping the country."#TribFest20 https://t.co/POdEm5RZro pic.twitter.com/ErGmRSEmAY

— Texas Tribune (@TexasTribune) September 9, 2020
In a recent Politico interview, Andrew was asked about his involvement with the Prop 24 campaign:
We're used to thinking of you on the national stage. What compelled you to get involved in a campaign to rework California's data privacy law?

I've been trying to activate people on data and privacy rights nationwide for a number of months. It was one of the issues I ran on during my presidential campaign, and then, when my campaign concluded, I started this data dividend project [advocating for people to get paid when tech companies profit off their data]. It was inspired, in part, by the protections of the California Consumer Privacy Act.

But then it became clear to me that the CCPA needed reinforcement and strengthening. I got excited, in large part, because even in the last number of weeks, seeing Europe step forward with a higher standard [with the General Data Protection Regulation] while the U.S. is still trying to figure out what to do. [Editor's Note: Andrew's analysis that CPRA provides parity with GDPR is paralleled by other observers, including legal experts as well as the Prop 24 campaign.]

It seems pretty clear to me that state legislatures are going to end up taking the lead, with California front and center. When I realized that there was an opportunity to have California help the U.S. catch up to global leaders in protecting people's data and privacy rights, it was a no brainer for me to do everything I could to support it.
Finally, in a recent interview with FoxLA, Andrew was quoted as saying ""California's data and privacy rights rules can serve as a model for the rest of the country" and
"Proposition 24 sees to it that your data and privacy rights are yours," Yang explained. "You can opt out of geo-targeting so they can't tell where you are… if they negligently handle your data you can actually bring some kind of suit against them, and there's a new data protection agency envisioned in this law that's actually going to be working just on people's data and privacy rights."

"This is a major step forward," Yang continued. "And you know it's a good thing, because a lot of the tech companies don't like it."
Check out the full interview by clicking the image below: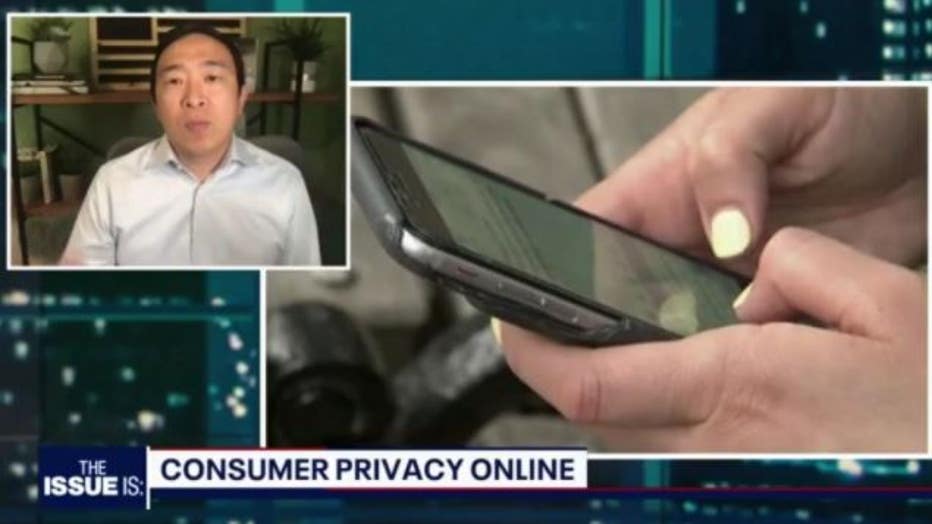 At the end of the day Andrew makes a strong case to Vote Yes on Privacy and Vote Yes on Prop 24!